DjVu Viewer
About
DjVu Viewer is a small .djvu file reader, enables you to open and view DjVu format files, easily zoom in and zoom out. This software can generate the thumbnails of all image pages, allow you to quickly browse. And, you can export the images to other format image files, such as JPEG, PNG, GIF, TIFF and BMP formats, program supports batch conversion, you can convert all images at once.
Screen Shots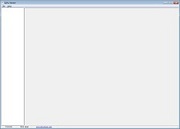 Download Current Version
And it is totally free. Now how cool is that?
| License | Runs On | Description | File |
| --- | --- | --- | --- |
| Freeware | Windows 7, Vista, XP (x86 and x64) | Setup Executable File | Download Mirror 1 |
This program requires substantial amounts of memory, disk space and CPU processing power.
About DjVu file format
The DjVu format is a popular image transmission format that is based on specially designed compression technology, it has a amazing compression ratio, hundreds images can be compressed into a very small file. The DjVu file extension is .djvu or .djv, it is generally used to store scanned images, e-books and so on.
This software is a freeware, use it at your own risk.
Navigation: Home Screen Shots Contact
Copyright © 2011 djvuviewer.com, all rights reserved